We had stopped to pick up the mail and as we drove home I couldn't resist.  I had a package from Angela.  I couldn't wait to see what was inside! She had sent us a goody for the Handmade Holiday Gift Guide.
"Give me your knife."  Angela had taped that box up very well! I carefully split the tape and pulled open the flaps and removed some papers.  And there, wrapped in pink tissue paper, it was.
"Ohmahgosh."
"Is it broke?!" Ben says.
I simply breathed out a "nooo…"  followed by a squeal that made me realize where Sunshine gets her squeal abilities as Ben sticks his finger into his right ear.  "OH.MAH.GAAASH!" And, I pull a CONFECTION of icy pink delight out of the box.  It sparkles and catches the sun.  And, if my squeal wasn't enough to pull the kids attention the sparkles was.
From the back of the car comes, "THAT's MINE!" with such excitement and joy I didn't have the heart to tell Sunshine…uh..no…it's MINE! 😉  You see my kids are color coded.  It's an organizing technique I used when we literally went from 3 to 6 kids overnight when we gained emergency custody of my niece and nephews.  So…all things pink are Sunshine's…normally.
I hold it up and the girls suck all the air out of the vehicle causing our ears to pop.  Within the silence I hear the most amazing thing…
"That IS cute."
That came from my HUSBAND!  I just looked at him.  "Did you say it's cute?"
"Yeah…it is."
So…how cute is our "Allergy Free" Winter bouquet decoration that sits happily on Sunshine's table?  Well…so cute that a guy who can't even be bothered to match his socks noticed.
You should check out Angela's shop.  She has the most beautiful wedding bouquets and holiday arrangements.  And, if you've someone who suffers from allergies why not check her out for Valentine's Day!  How nice would it be to receive "flowers" that don't send you into a sneezing, runny eyed mess!  Or what about giving one of the toss bouquets to your little girl who is always playing wedding?  I know what I'm ordering.
She also has other goodies such as boutonniere's, toss bouquets and pens.  I think the pens are so very pretty and would be lovely for the writer in your family.  Did you notice the seed beads along the side?  That's the kind of detail Angela offers.  Unique, beautiful,…truly one of a kind.  It'd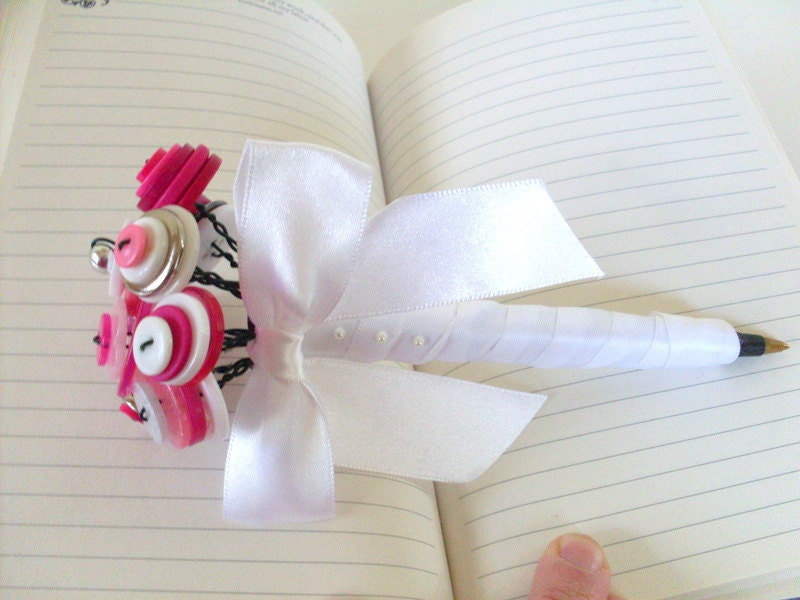 make a great Valentine's Gift too.  Simply add some beautiful stationary or notepad, a box of chocolates and top it off with a matching ribbon…Yeah…now THAT's my kind of Valentine's Day!
Angela's even offering a giveaway for you to win one of your own!  You can even choose the color of your choice!  All you need to do is hop over to her shop, favorite it and come back to tell us what your favorites are.  I love that Red Toss Bouquet!
Good Luck! 🙂
~Honey
a Rafflecopter giveaway