I'm the newest co-host at "From the Farm."  It's a group of awesome ladies that have farms and are raising their own fruits, veggies, eggs, meat & dairy.  They're awesome homesteaders and I was asked to participate!  I was like "EEEEK!!"  And I quickly joined up so they couldn't change their minds. 😉
So, each Friday there will be a post about our mini farm.   I think today would be a great day to share some of the weird but favorite questions I've been asked since we started our mini farm.  Now, all the questions/comments were from folks I had never met before.  Some of them were enough to make me check under the bed and behind the shower curtain when we got home.
"So do your chickens cross the road?"
"I saw you on "farming/animal based facebook group".  Do you have any used John Deere farm equipment?  I'm interested in starting a maggot farm."  Eww.  and Uh no.  I said, "We sold the business and started selling baskets made underwater at a fair market value."
"Since you have chickens how many chickens does it take to make a chicken poultry farm?  And, how do you keep them from crossing the street?"  (It wasn't a joke.  She was serious.)
"So what came first the chicken or the egg?"  Again, laughter.  "I don't know why you're laughing.  It's a valid question."  oooohkay!
"Since you're a mini farm is there a mini farm state insurance or can you get the regular state farm insurance?"
"Do you know where I can get some of those hillshire farms coupons?"  I said, "Oh, My blog isn't about coupons."   She then said, "What's a blog?"  ( Why is she asking me this?!)
"Wait, you made a gas chamber?"  I said, "Yes, a gas chamber is the most humane way to kill your chickens.  Peta recommends all chickens be gassed not electrocuted or their throats sliced as they feel it.  We used a 5 gallon metal bucket so that it's too small for anyone to be hurt by"  To which dude says, "Hey…do you know where I could get a really big metal bucket?"  The hair on the back of my neck stood up.
"Are you a pot farm moocher pro?"  Uh…no.  We run our own farm and we garden and raise animals not pot and we're anti mooching."  I've no clue.
"You're raising chickens to eat?!  Can I give you my number?"  Thinking they wanted the feathers for jewelry as both had a feather earring. I said a quick sure and he continued with, "cause we'd love to have the blood."  I smiled and took their number down on a napkin, smiled as I walked quickly away and prayed they never saw me again.  *shudders*
But, my FAVORITE question of all time about having a mini farm and raising animals is "I don't know why you just won't go to the grocery store and buy the meat there where no animals were harmed.  It's simply inhumane to raise your own animals for food"  Oh my.  If no animals were harmed at your grocery store then you're not eating meat.
Enjoy 'cause here's this week's favorites from the other hosts:
Rock on guys! Remember to snag a button and display it proudly on your blog!
Keep scrolling to enter this week's party!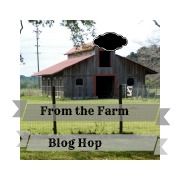 1. Link up to three of your best gardening or homesteading tips, farm-themed posts, recipes, homemaking and simple/frugal living tips, decorating ideas, DIY projects, craft ideas, thrifty makeovers or repurposed items, healthy and sustainable living tips, and giveaways.
2. Link back to my blog, or put the link party button anywhere on your blog or post to share the love.
3. Make sure to check out some of the other links before leaving. We can't wait to see what you share with us!
Note: Linking up to this party will automatically sign you up for an invite to next week's party via email. To unsubscribe, please reply to any email you receive and you will be removed. Linking up also allows us permission to publish one of your photos on our blogs, Facebook, and/or Pinterest pages.